NI Guide To Fire Extinguishers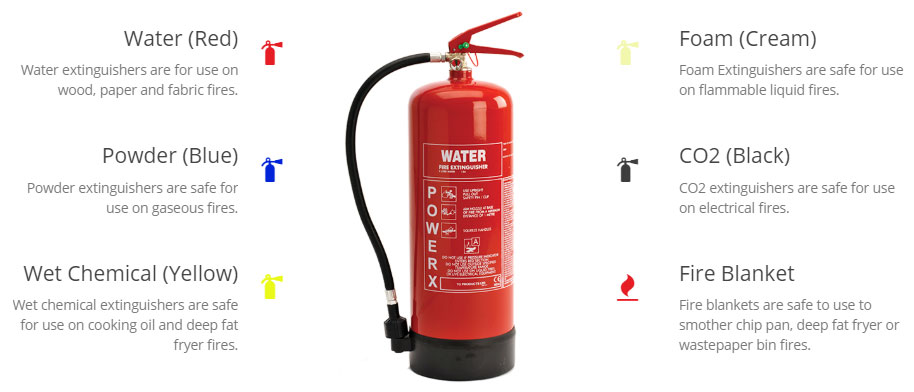 What are the different types of fire extinguisher? Which fire extinguisher should I use? What are the colour codes for fire extinguishers? Home and business owners can often get confused about which fire extinguisher to use. Sometimes they just forget. Training in the proper use of fire extinguishers in vital but we thought you might also like a handy guide to fire extinguishers in Northern Ireland.
Feel free to save and print the graphic above and be sure to check out our 'Tips for fire prevention in Northern Ireland' page.
Red – Water extinguishers are for use on wood, paper and fabric fires.
Cream – Foam Extinguishers are safe for use on flammable liquid fires.
Blue – Powder extinguishers are safe for use on gaseous fires.
Black – CO2 extinguishers are safe for use on electrical fires.
Yellow – Wet chemical extinguishers are safe for use on cooking oil and deep fat fryer fires.
Fire blankets are safe to use to smother chip pan, deep fat fryer or wastepaper bin fires.
CALL US TODAY ON 028 9448 8326
FOR A FREE SURVEY OF YOUR PREMISES